Skincare tips & advice
Sữa Rửa Mặt Cho Nam: Chọn Sữa Rửa Mặt Cho Loại Da Của Bạn
Facial cleanser is a skincare staple, but what's the best face wash for men? The answer depends on your skin type and any other skin concerns you may have. Once you know your skin type, it's easy to select the proper cleanser that effectively removes dirt, oil and sweat without leaving the skin feeling stripped.
Overview
There's more to facial cleansing than lathering up and rinsing off, and an effective face cleanser for men (or anyone for that matter) should meet certain criteria. First and foremost, it needs to be gentle on the skin. This means skipping the "soap" and opting for mild cleansing ingredients that don't leave the skin feeling stripped. It's also smart to select a face cleanser that is formulated to meet the needs of your specific skin type—and a product that contains ceramides can help ensure effective skin cleansing without disrupting the skin barrier.
How to cleanse correctly1
Use a gentle cleanser that does not contain alcohol
Wet your face with lukewarm water and use your fingers to massage for approximately 30 seconds2
Rinse with lukewarm water and pat skin dry with a soft towel
Limit washing to morning, evening and after sweating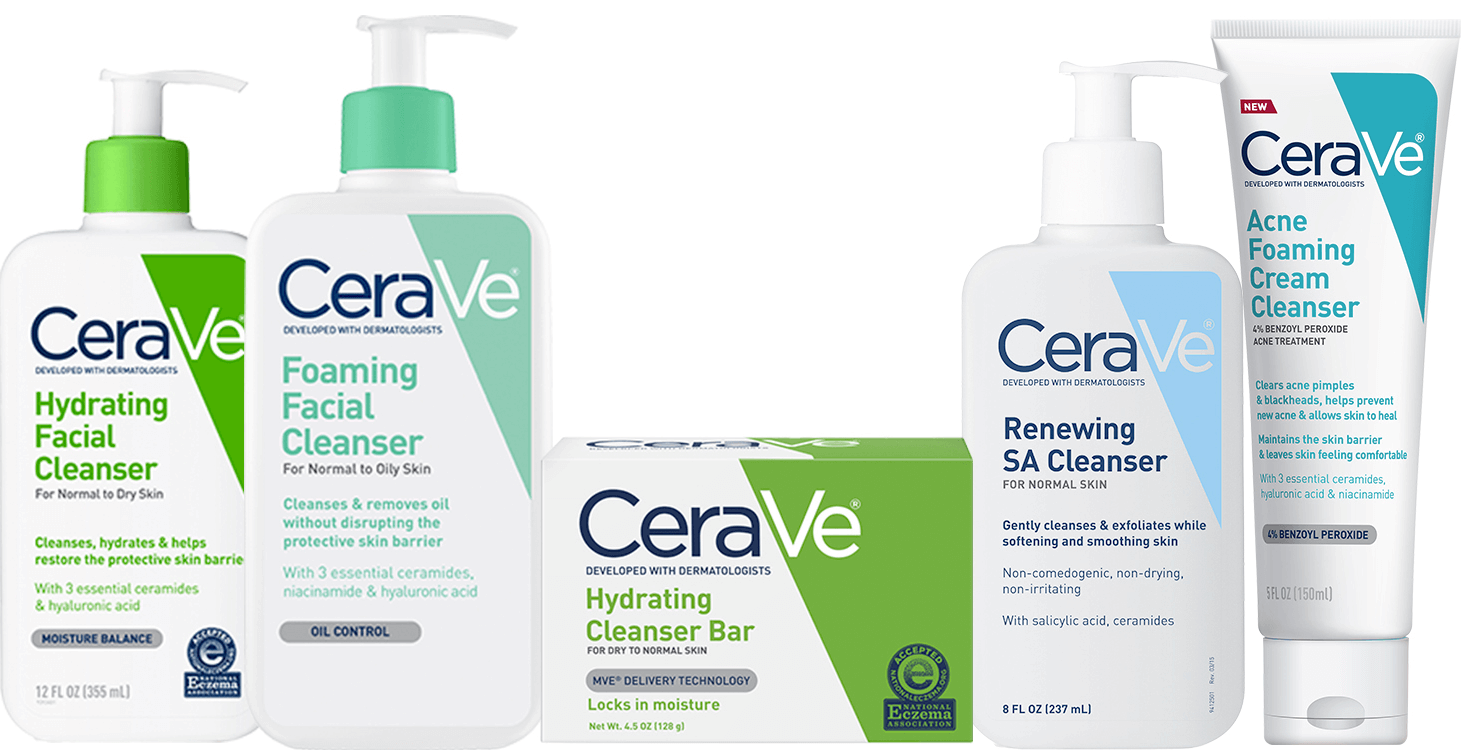 When choosing a face cleanser for men, the first step is determining your skin type. The best choice may depend on whether your skin is oily, dry, combination or sensitive (and if you experience acne or ingrown hairs). Once you've narrowed this down, you're one step closer to healthier-looking skin!
Oily Skin
Oily skin can be due to hormones, genetics, humidity and even stress. In most cases, the best face wash for men with oily skin is a gel-based or foaming formula. Yet many men mistakenly believe that oily skin requires a harsh cleanser that leaves the skin feeling tight (and using it often). In fact, a mild, gentle formula (used in the morning, evening and after working out) is actually a better face cleanser for men since harsh products can actually prompt the skin to produce more oil.2 A few beneficial ingredients to look for in a face wash for men with oily skin are hyaluronic acid for hydration without clogging pores, niacinamide for calming benefits and salicylic acid for gentle exfoliation.
Dry or sensitive skin
Dry skin results when the skin loses too much oil or water, and sensitive skin reacts to external irritants—but these two skin types can actually have one thing in common: a compromised skin barrier. The ideal face cleanser for men with either of these skin types should feature a mild, gentle formula that includes ceramides to help ensure effective cleansing without disrupting the skin barrier. Dry and sensitive skin types can also benefit from additional ingredients such as hydrating hyaluronic acid and calming niacinamide. The best face wash for men with these skin types is one that will be used every day, which is why it's important to choose the right texture based on preference. Among the options is our lightweight, lotion-like Hydrating Facial Cleanser.
Combination skin
If some areas of your face are dry or normal while others (such as your nose, forehead and chin) are oily, odds are you have combination skin. Combination skin often experiences enlarged pores, blackheads and shine as well,3 but the good news is that the proper face wash for men with this skin type can address all of your concerns. A ceramide-infused formula that removes excess oil from the T-zone without leaving the skin feeling stripped can go a long way for balancing combination skin and keeping it looking healthy.
Acne
Acne isn't just a teenage problem, and an acne treatment for men who experience breakouts can help keep your skin calm and clear. The proper cleanser is an important part of any anti-acne regimen, and it's possible to achieve visible improvement without being harsh on the skin. The ideal face wash for men with acne needs to be both gentle and effective. Our Acne Foaming Cream Cleanser features a 4% concentration of benzoyl peroxide along with hyaluronic acid, niacinamide and ceramides to help improve the skin's appearance without leaving it feeling dry or looking flaky.
Ingrown hairs
Shaving is a fact of life for most men, but it can also lead to ingrown hairs. One of the simplest ways to help prevent or improve them is by using a cleanser with salicylic acid. This gentle exfoliating acid helps eliminate the uppermost layer of dead surface skin cells that "traps" hairs beneath the skin's surface and in turn leads to irritation and blemish-like bumps. For additional skin-smoothing opt for a cleanser that also contains ingredients like soothing niacinamide and barrier-replenishing ceramides.